According to Google's data editor, Simon Rogers, alerted the world to renewed interest. He noted a spike of 350% in searches over a four-hour period for "how can I move to Canada" coming from the United States.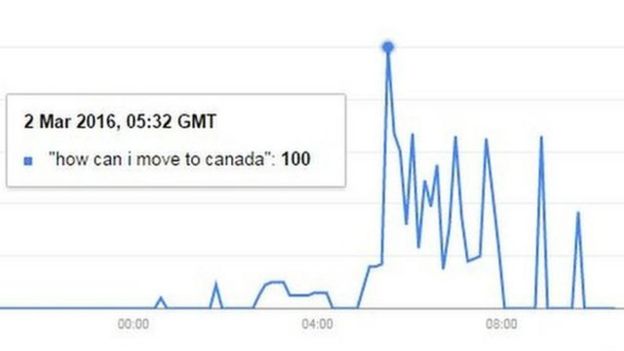 Courtesy: http://www.bbc.com/news/world-us-canada-35706377
Many news organizations were offering helpful guides on how to flee the United States.
"Our phones, as of today, have literally gone crazy with Americans calling," an immigration lawyer in Vancouver, David Aujla, said on Wednesday. "I used to say that George Bush was my best marketing ally. And I'm going to elevate Donald Trump to that position as soon as he becomes president."
Courtesy: http://www.nytimes.com/2016/03/04/us/politics/move-to-canada-trump-clinton.html?_r=0